Hill Climb Racing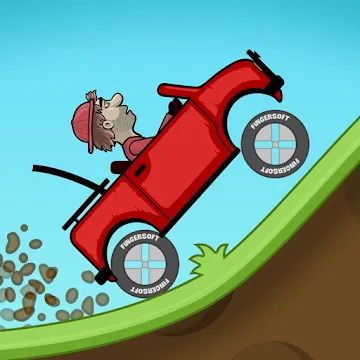 Updated

Version

1.60.0

Requirements

Android 4.4

Genre

Racing

Price

Free
Hill Climb Racing - an exciting race for android that can surprise you with a developed physical model and addictive gameplay. The main character is the ambitious Newton Bill, ready to conquer the highest peaks. In the process of gameplay, we have to improve our abilities and improve the car.

The developer of the application is the studio Fingersoft, which gave us an excellent program Cartoon Camera. The game has bright and attractive graphics, good balance and an abundance of different levels.

Management tied to the use of the gas keys and brakes. Since our car is rear wheel drive, with a sharp start it rises a little forward, and when braking, on the contrary, it goes down. To successfully complete the levels you need to learn to feel a similar balance.

Any level contains a small distance that must be passed without crashing. In the case of a coup machine, the level will have to be rebuilt, but, fortunately, the money earned will be saved. After the check-in comes the calculation of earned money, which is spent on various improvements.

Hill Climb Racing contains many worlds opening for play money. All levels have their own coverage and physics. The last few locations are located in space, where local gravity makes significant adjustments to the gameplay. To get more money and points, we need to succeed in various tricks, which is extremely difficult to bring to life.

The disadvantage of the game can be called its overstated complexity, however, this does not scare hardcore gamers, rather the opposite. Hill Climb Racing will definitely appeal to users who prefer arcades built on physical zamorochkah.
Download Hill Climb Racing free for android